When it comes to creating a perfect home office, it always boils down to the comfort that you feel when tackling your daily tasks. But, making sure that your workspace matches your personal sense of style is often just as important. Many times, the actual quality of the chair that you are using, as well as the overall look of the room play a crucial role in determining your productivity during the work days. If you are not entirely sure about your home office choices or just want to make certain that you got the office equipment to fulfil all your needs – aesthetic ones included – we are here to help.
But where to start? Luckily there are many products in our offer that might be perfect additions to any stylish home office out there. With a swift delivery and dazzling designs, we are sure that we can offer something that you would just love to have in your everyday working environment.
Knowing where to find the products that can meet your rightfully high criteria is one thing, but making a choice and getting the right ones from a plethora of choices is a whole different thing. A good starting point is determining what kind of vibe or feeling you are trying to reach in your perfect home working environment. Are you planning to go on the classy side of things and match that elegant wall painting with an equally glamorous chandelier? Or maybe you'll go for something entirely different like a colorful wall that screams fun. Throw in a couple of lazy bags and lava lamps and get that laid back ambience that gets your creativity going. Or maybe you'll just go with our personal favorite – a casual working atmosphere that will give you comfort and a great feeling of safety and stability in order to boost your motivation to get your daily tasks done.
Whatever the desired look of your interior design, one of the best ways to get the process going is to search for ideas at the right place. Our Pinterest and Instagram accounts can provide you with a wealth of inspiration for your personal decor efforts, and there you will easily discover dozens of types of home working interior designs – we like making sure that our customers are inspired!
Once you have found a perfect look for your home workspace you are ready for the next step, however be sure to organize your workflow beforehand as that is also an important element in order to feel right and know you did a great job. 😀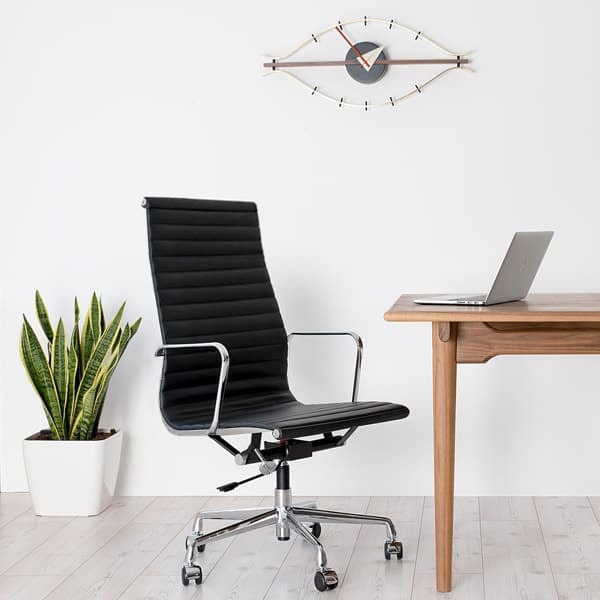 Making Your Dream Home Office Reality
There are several key points that you should certainly keep in mind in order to make your dream office become reality, and we hope that this couple of small tips can help you make a difference and get your working interior down the road to become that stylish sanctuary where you'll get all your work done with ease.
Green Does Wonders for Indoors Mood
When it comes to a great working atmosphere, there is hardly any small little detail that can make such a strong impact as a cool house plant. Feel free to choose any species you prefer, but don't miss out on the opportunity to bring some green into your workspace – this will do wonders for the whole mood of the room, breaking the monotony of the closed space with a lovely natural element that is sure to make your working nook noticeably more lively and cheerful.
Create Some Room To Feel Relaxed
Be it a funny lazy bag or a classy and luxurious Lounge Chair, a place where you can always get some rest from a tiring day is something we all crave and need. And while the home office does tend to blur the line between working hours and 'me time' at least a little bit, why not get that line blurred in style. And in the end, who doesn't like to lay back and enjoy a good read with the work windows minimized – hey, we all need a break, right? 🙂
Decorate Your Desk
Making your desk a happy and well-decorated place is a much simpler task than many of us might originally assume. After all, your desk is your workspace and it's rare that anyone can go wild there and still be left with enough free space to be able to get things done. Instead, you should focus on small details, especially those that come with a functional aspect as well as aesthetic one – just consider a nice and stylish desk lamp that can accompany your laptop – as an aesthetic addition by day and as a much needed necessity once the sun sets. Inspired? So are we! Find a lamp that suits your taste the best and go get it!
Find the Perfect Office Chair for Your Home
If you have read this far – congrats, looks like you are pretty determined to make your home office to be as amazing as it can be. We love that spirit and for our closing remarks, we will mention the most crucial element of your home office – your office chair. Let's be honest here – lazy bags are fun and lounge chairs can look lovely, but if you're anything like us here at byKALLEVIG, you can't just be laid back the whole day, right? When the deadline is near or you wake up to a two-digit number of important emails on your phone (you know the feeling now, don't you!), you know you just need to sit at your desk and get down to work.
Making sure that you have a comfortable and ergonomically designed office chair is absolutely crucial during those long sessions when you spend hours at a time in front of a computer screen. And this is not just a matter of style – you want your office chair to be functional aside from being aesthetically pleasing but also designed in such a way that you won't have to worry about those annoying aches once the work day is done. Combining functionality and comfort with impeccable style is something that we do the best and with that in mind, we have no doubts that you will find the perfect model for you in our collection of premium-quality office chairs designed in timelessly elegant mid century modern style.