Extended Guarantee
Up to 5-year guarantee
Learn more
One of the reasons you might be shopping with us is that you recognise the superior quality of our pieces. And just as we want our furniture to be the best you can find, we want our promise to you to be equally superior. That`s why, while most furniture manufacturers only offer a 1 year warranty, we offer up to 5 year warranty.

Aftercare
Free 2 year aftercare
Learn more
To give you a seamless shopping experience, byKALLEVIG introduced a 2-year aftercare program for our dear customers. We want to make sure that your furniture lasts and maintaining it well is the key component in making that happen. So, how does this work? It`s pretty simple actually - we assign you our aftercare specialist that you can contact at all times for any information you need regarding the cleaning and maintenance of your furniture. It doesn`t matter if it`s an aftercare product recommendation, a piece of general information, or advice, our specialists stand at your service to ensure long-lasting quality.

Pay later
Buy now, pay in 30 days, interest FREE. Select Klarna at checkout.
Learn more
With our finance partner Klarna, you can choose the monthly payments you like the best - with 0% APR, no late fees or surprises. Just select Klarna at checkout.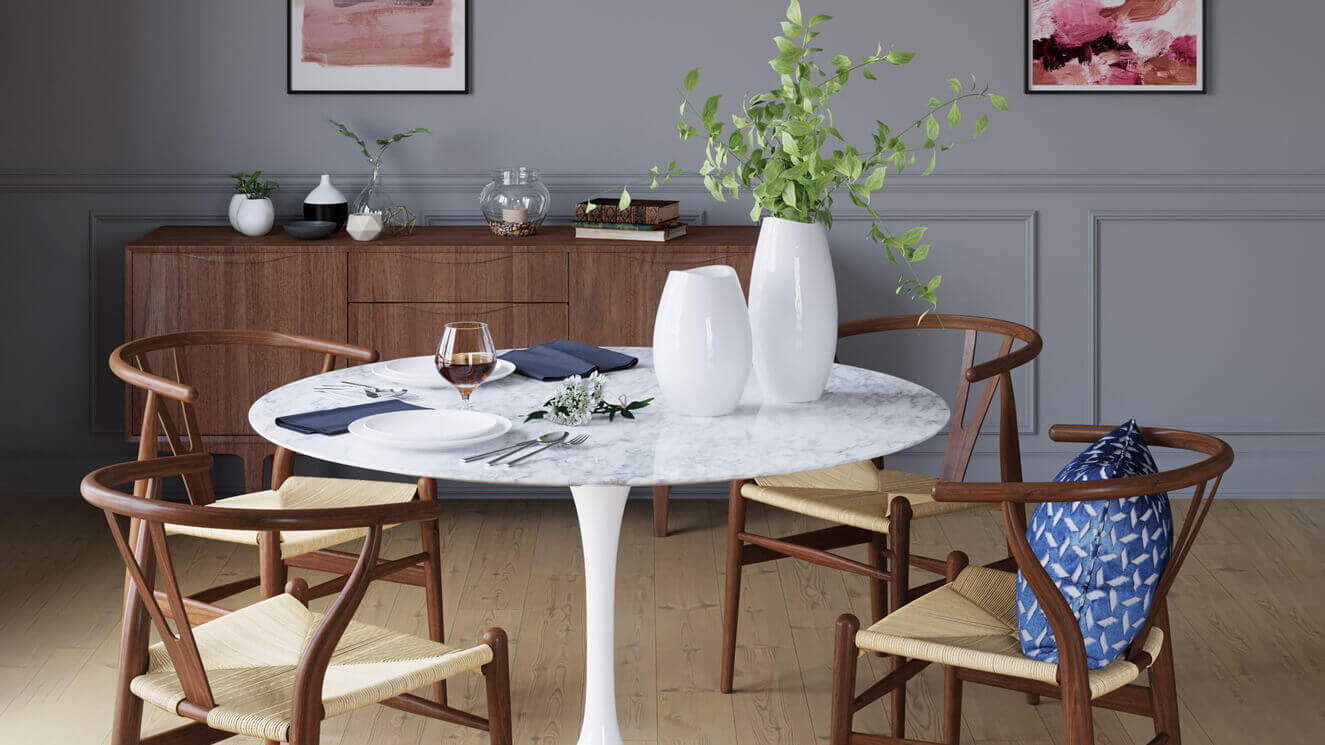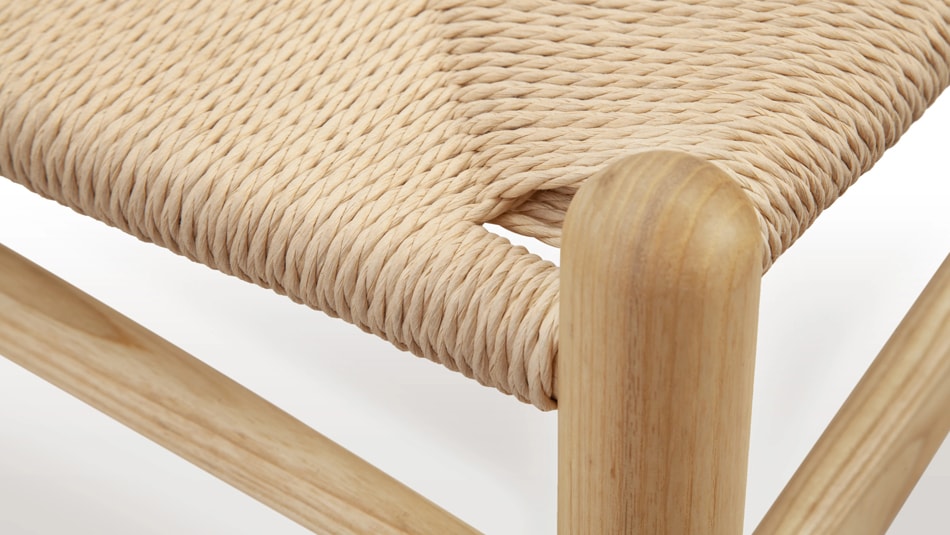 Attention to Detail
Every part that this modern piece of furniture has is made carefully with dedication. The actual seat which is one of the crucial components is made with absolute attention to the smallest of details while being handmade by our craftsmen.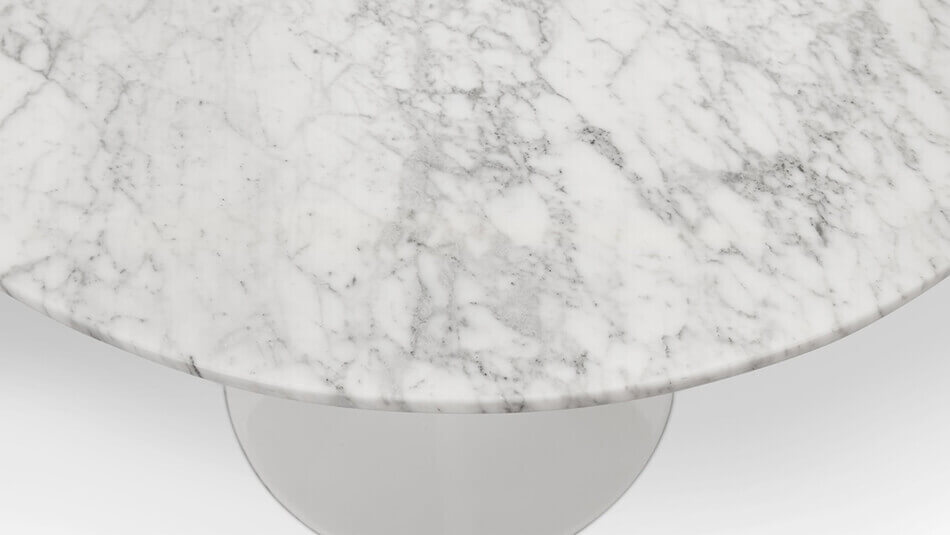 Premium Tabletop Quality
Using only the best of the materials our craftsmen wanted to ensure an undeniable quality for this dining piece. WIth the vast variety of tabletops you can always choose the one that suits your interior the most.
FAQs
Does this item require an assembly?
Yes, it does, but it's very simple. You only need to screw the seat onto the base.
How comfortable are the chairs?
The quality and the comfort have always been the strongest points when it comes to our products. The comfort ratio varies since there are some chairs that are specifically made for comfort, but be sure that every single one matches the standard of its reputation.
Where are the products made in?
The chairs are made in our overseas factory near the Yellow Mountains in Eastern Asia. Also, they are handmade by our craftsmen which means that they are crafted with special care and exceptional attention to detail. :)
Do I have to worry about the quality of the material?
Our items are made only from high-quality materials, so whether it's vegan or real leather, or any other material like aluminium or plastic, you can be sure that they are constructed in such a way that will live up to every standard and expectation.
What is the return policy?
You should always enjoy your lovely purchases. However, if you are unsatisfied with the received item(s), you can always get in touch with our customer service team. Likewise, be kindly noted that return shipments are independently arranged and covered by the customer. We are only able to accept returned items in original packaging and like-new condition.
How can I contact you?
If you want to contact us by any means, you can do it through several channels of ours. Contact us via social media or just reach out to us via chat, phone or email at: [email protected]
Reviews
Based on 1000+ reviews
Perfect match for our table
We got the black versions on a sale and are super pleased with the quality. They are a lovely match for our kitchen table
Caroline
Awesome purchase
Really love the chairs, they look amazing. Compliments for the customer support team, they have been super helpful during the delivery process
Lucy
Love the handmade approach
I was skeptical at first but when I got the chairs, I could really see the difference when compared to cheaper alternatives. The seat really looks lovely, not a string is out of place and it really feels comfortable and nice to sit on it. Would definitely recommend
Kinsley
Amazing shopping experience
Really love the chairs, they look even better in real life than on the pictures. I had to postpone the delivery due to an unexpected business trip and the customer service representative was so kind and changed the delivery time for me
Allison
Fast delivery, awesome products
The delivery was quick and smooth and I had no problems at all. The chairs arrived undamaged and we absolutely love them. Would recommend byKALLEVIG and would buy from them again
Tom
Very helpful customer service
Me and my husband ordered a set of six and we loved them, but one box came damaged, with the chairs scratched. However, after we have reached out to their CS team, they helped us arrange the return and we got a completely free replacement within 48 hours. Couldn't be happier with how it turned out in the end.
Naomi
Best buy for the value
Being in the interior design business for some time, I have to say that these Wishbones are perhaps the best buy I made for the value I invested. The chairs really look stunning and quality is just amazing, the texture of the wood is lovely, the seats look outstanding, the backrest is made out of a single piece. Really love them and look forward to working with byKALLEVIG in the future.
Quinn
How can this be so cheap!
Thank you so much for providing us with these awesome chairs for such a cheap price. I got one to test them out and really loved them, so now Im waiting for the whole set. Will look great with my table
Regan
Love them!
Really awesome buy! The chairs look lovely and would definitely recommend
Geoffrey