Extended Guarantee
Up to 5-year guarantee
Learn more
One of the reasons you might be shopping with us is that you recognise the superior quality of our pieces. And just as we want our furniture to be the best you can find, we want our promise to you to be equally superior. That`s why, while most furniture manufacturers only offer a 1 year warranty, we offer up to 5 year warranty.

Aftercare
Free 2 year aftercare
Learn more
To give you a seamless shopping experience, byKALLEVIG introduced a 2-year aftercare program for our dear customers. We want to make sure that your furniture lasts and maintaining it well is the key component in making that happen. So, how does this work? It`s pretty simple actually - we assign you our aftercare specialist that you can contact at all times for any information you need regarding the cleaning and maintenance of your furniture. It doesn`t matter if it`s an aftercare product recommendation, a piece of general information, or advice, our specialists stand at your service to ensure long-lasting quality.

Pay later
Buy now, pay in 30 days, interest FREE. Select Afterpay at checkout.
Learn more
With our finance partner Afterpay, you can choose the monthly payments you like the best - with 0% APR, no late fees or surprises. Just select Afterpay at checkout.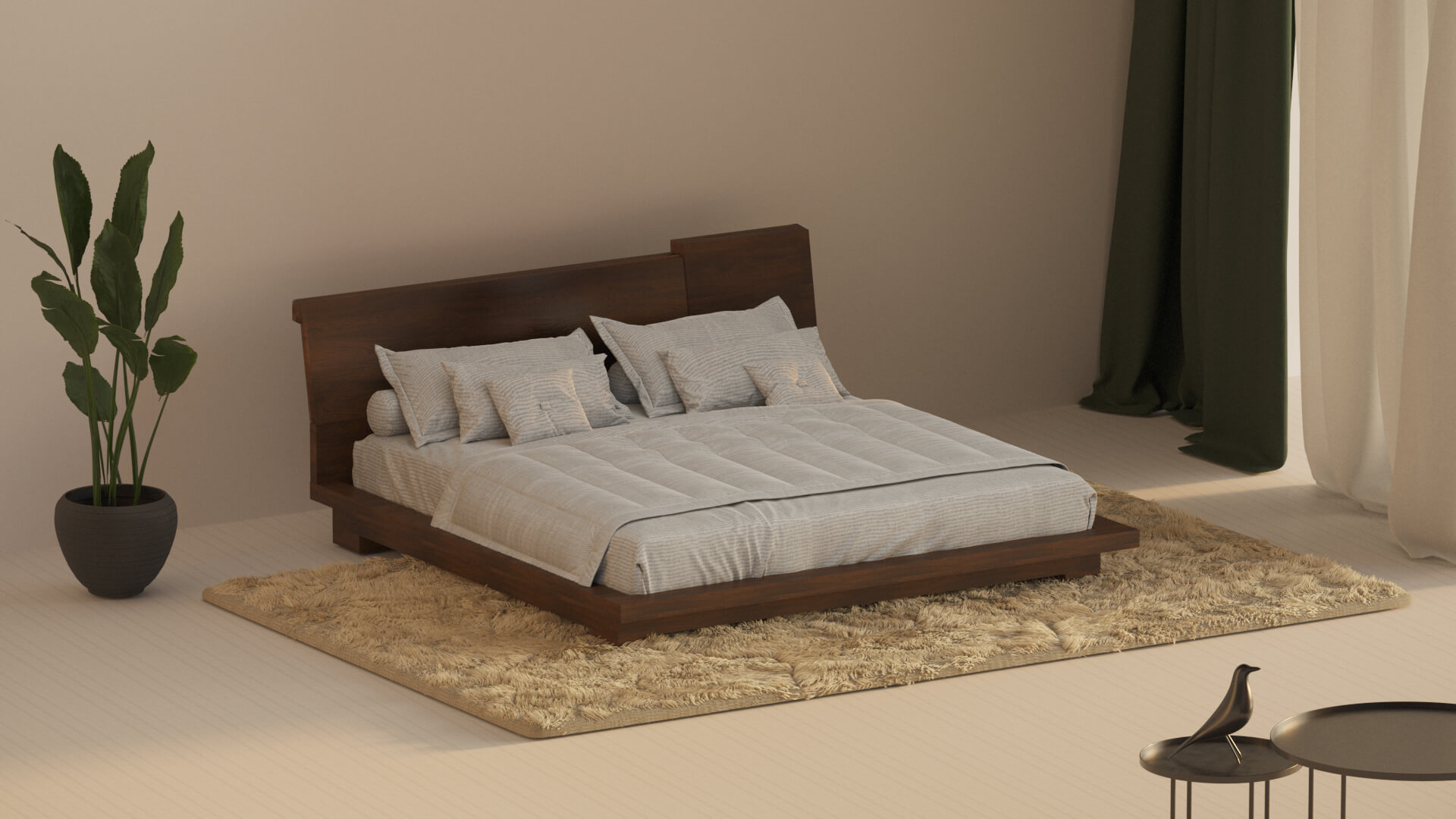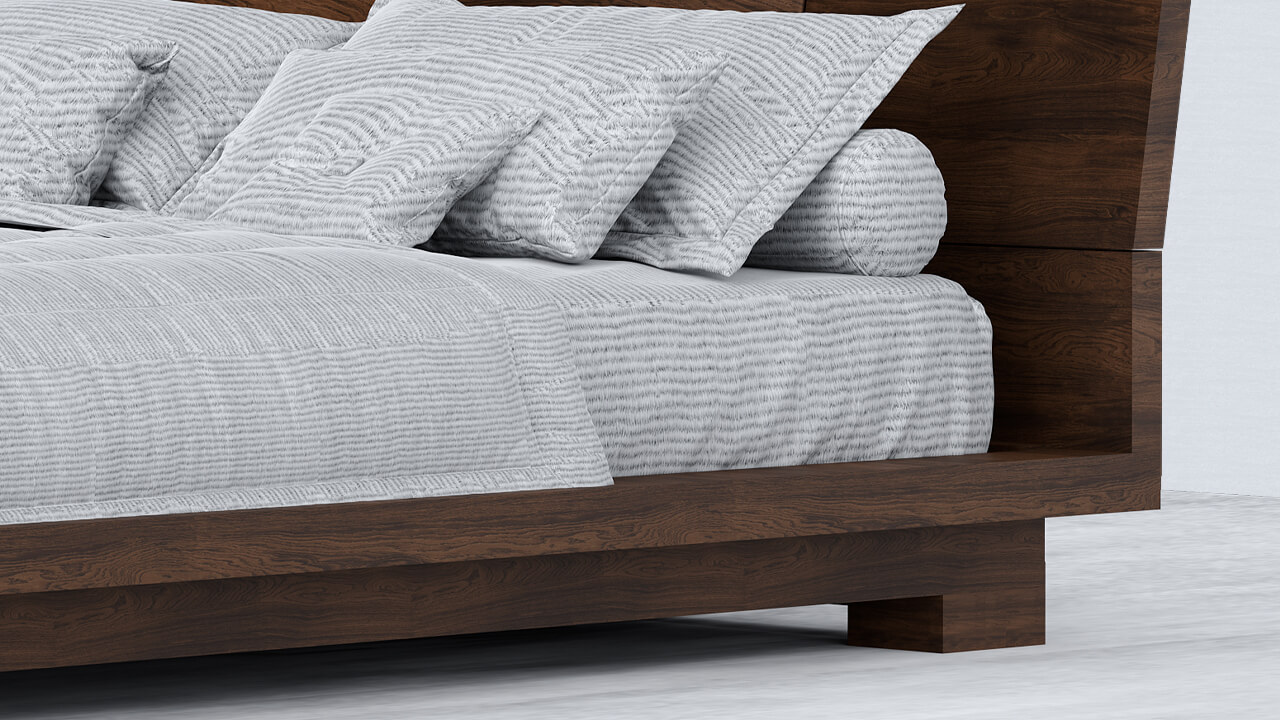 A Different Type of Unique
Giving a totally different vibe our craftsman joined forces with brilliant minds of our designers in order to make a next level type of detail for a bed that will make your dreams unforgettable.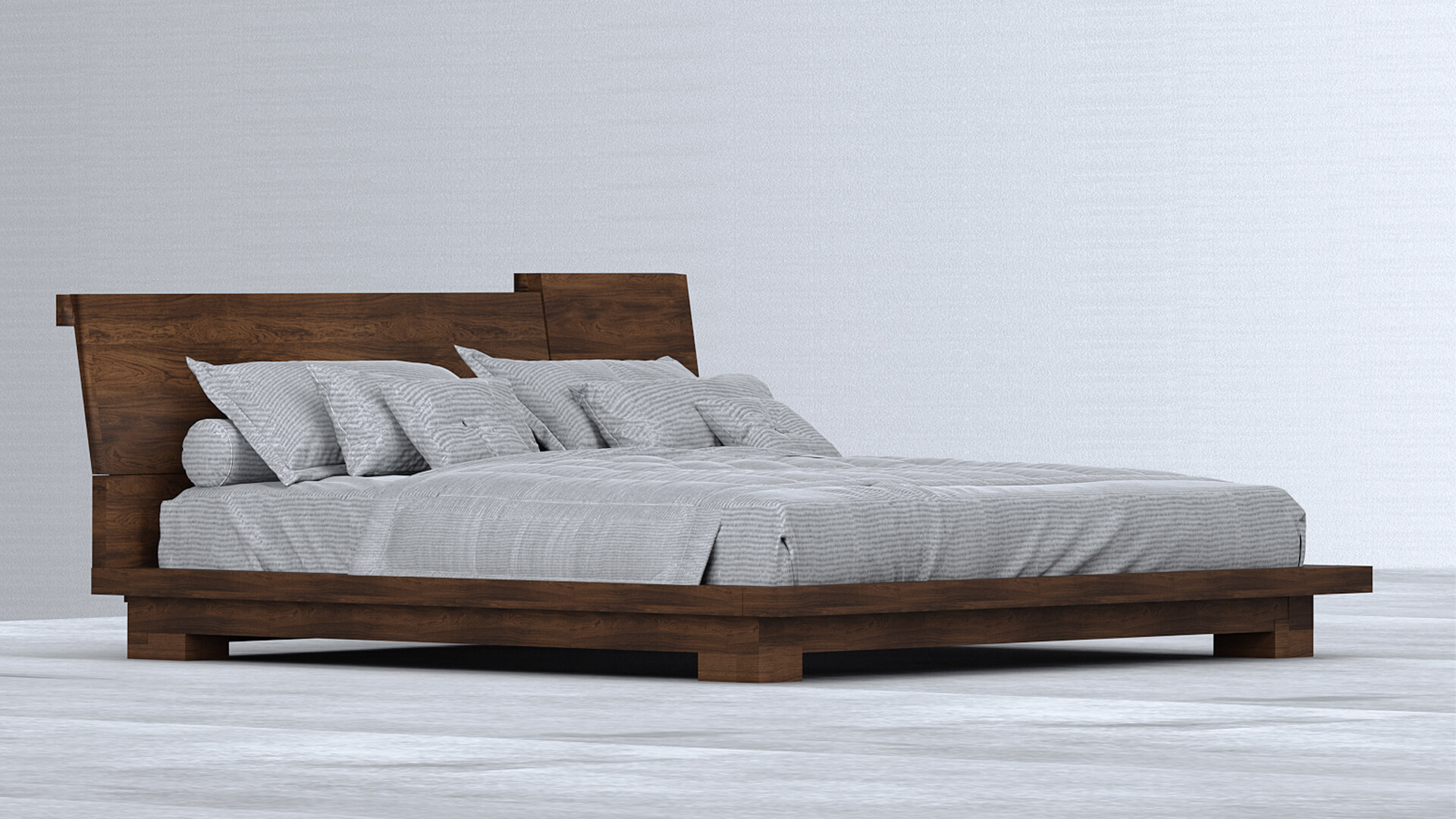 Firm Support
While having the aesthetics that can be the key attention grabbing piece, the base is made in such a way that can guarantee the durability and firm support that will last for years to come.
FAQs
Which materials are used to make this bed?
There are so many reasons why California Phase 2 Compliant MDF (Medium Density Fibreboard) is used as the main material in the modern bed industry. However, what exactly is California phase 2? CARB Phase 1 and Phase 2 are a part of California's Composite Wood Products Regulation (CWP Regulation), which took effect in 2009 with Phase 1. The regulation has to do with reducing formaldehyde emissions from composite wood products, hardwood plywood, particleboard and medium density fiberboard (MDF). Premium value, resistance to chemicals as well as a great amount of density are more than enough to make any famous craftsmen fall for the material.
What was the designer's inspiration?
Strong character and long lasting quality were definitely one of the greatest inspirations for this amazing art piece. Our designer Inga Bielke wanted to bring that real feeling of the Scandinavian forest straight to your home by making the wood texture special and unique. It is always important that your sleeping option feels like home and that is exactly why we wanted to make sure you above else feel secure and comfortable. Combining personal feelings with years of craft and practice Inga managed to create a bed that not only looks good but feels the same way as well.
Do the dimensions of the bed fit my body well?
No matter which kind of mattress you decide to choose for your bed, it will perfectly coexist with the structure of the wood. The dimensions are adjusted to all the body shapes ensuring safety and durability. We wanted to make sure that all of our customers have the most amazing experience whether it is physical or visual.
Where are the products made?
The beds are made in our overseas factory near the Yellow mountains in Eastern Asia. Also, they are handmade by our craftsmen which means that they are crafted with special care and exceptional attention to detail.
Does the bed come with the mattress?
All of our beds come without the mattresses or pillows as a simple construction. We always want to let our customers make the choice when it comes to the design and decoration of their own bed and we are completely sure that you will make the best possible choice.
What is the difference between a double and king-sized bed?
The main difference between these two categories is always more related to the dimensions than the actual shape. Double-sized beds usually are 4′6″ x 6′3″ in imperial and 135 x 190 cm in metric size while the king-sized beds have slightly bigger dimensions which are 5′ x 6′6″ in imperial and 150 x 200 cm in Metric size. In the end, it all comes down to your personal choice and we are sure you will make the best one!
Is your furniture suitable for business purposes?
We are very fortunate to have many small businesses put their trust in us by ordering our furniture for their commercial space. To make sure your employees have a pleasant, comfortable, and productive week, comfort plays a major role.The infrastructure of our logistics team will always make sure that your furniture arrives on time whether you've ordered 1 for your home or 20 for your business. For more details, visit our B2B page.
Reviews
Based on 1000+ reviews
Read more reviews
I love this bed
I love this bed! Choosing the right bed for my new apartment was very difficult. I wanted to find something that looked really modern and sleek but could easily fit different styles of interior as I like to change up things around my room quite often. We've had the Scandina king size bed for about three months now and we couldn't be happier.
Jessica
Amazing texture
The wood texture on this bed is amazing! It goes so well with the sturdy and clean design of the bed frame. Got myself some nice deep green bedding and now my bedroom feels like Scandinavia forest. Strongly recommend it! :)
Zoe
Clean design
Very simple and clean design is what made me decide to go for this specific model. Waited a bit longer for it but was super pleased with the quality and overall look once it arrived so I guess it's worth the wait!
Nicolas