Extended Guarantee
Up to 5-year guarantee
Learn more
One of the reasons you might be shopping with us is that you recognise the superior quality of our pieces. And just as we want our furniture to be the best you can find, we want our promise to you to be equally superior. That`s why, while most furniture manufacturers only offer a 1 year warranty, we offer up to 5 year warranty.

Aftercare
Free 2 year aftercare
Learn more
To give you a seamless shopping experience, byKALLEVIG introduced a 2-year aftercare program for our dear customers. We want to make sure that your furniture lasts and maintaining it well is the key component in making that happen. So, how does this work? It`s pretty simple actually - we assign you our aftercare specialist that you can contact at all times for any information you need regarding the cleaning and maintenance of your furniture. It doesn`t matter if it`s an aftercare product recommendation, a piece of general information, or advice, our specialists stand at your service to ensure long-lasting quality.

Pay later
Buy now, pay in 30 days, interest FREE. Select Klarna at checkout.
Learn more
With our finance partner Klarna, you can choose the monthly payments you like the best - with 0% APR, no late fees or surprises. Just select Klarna at checkout.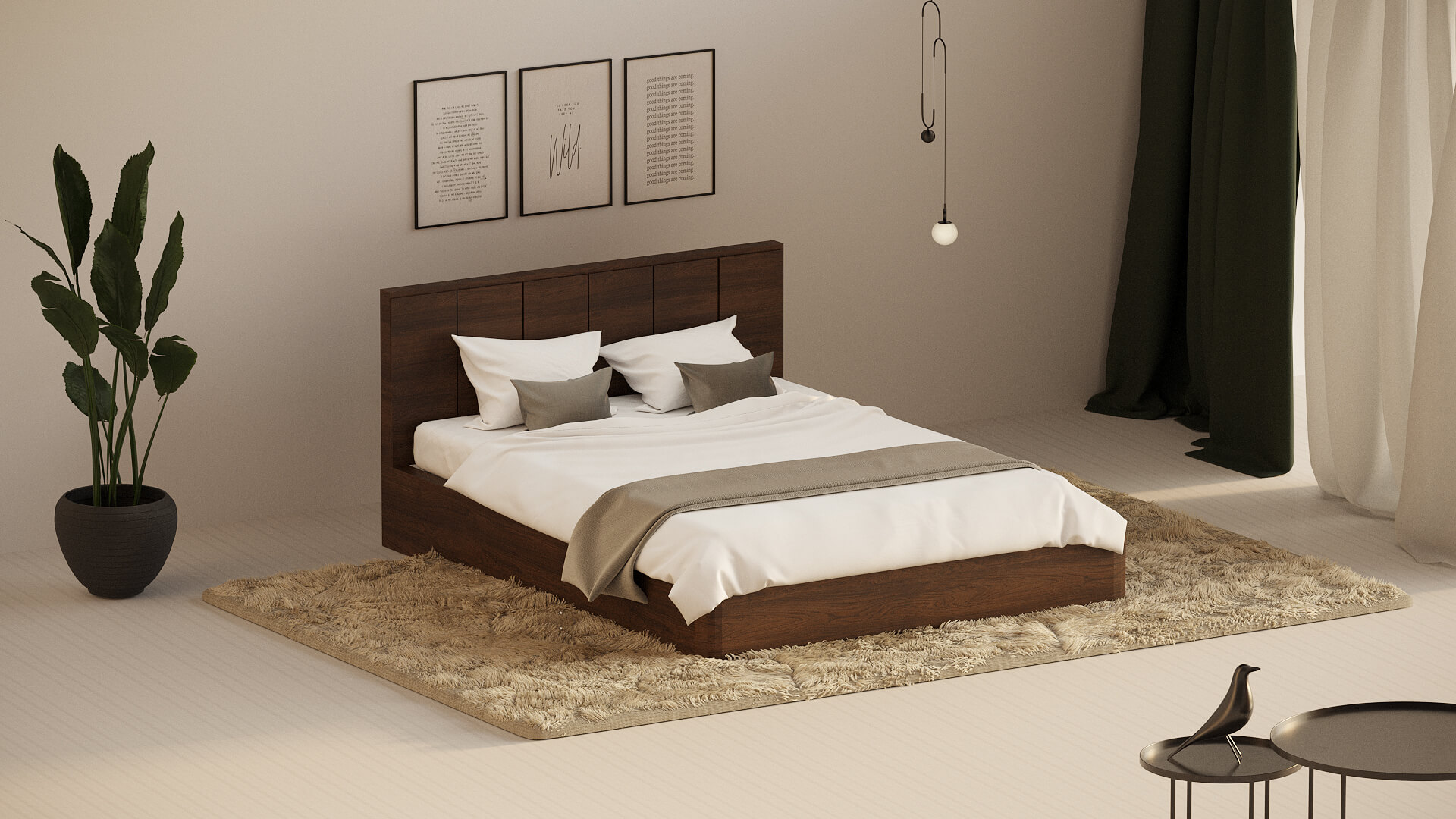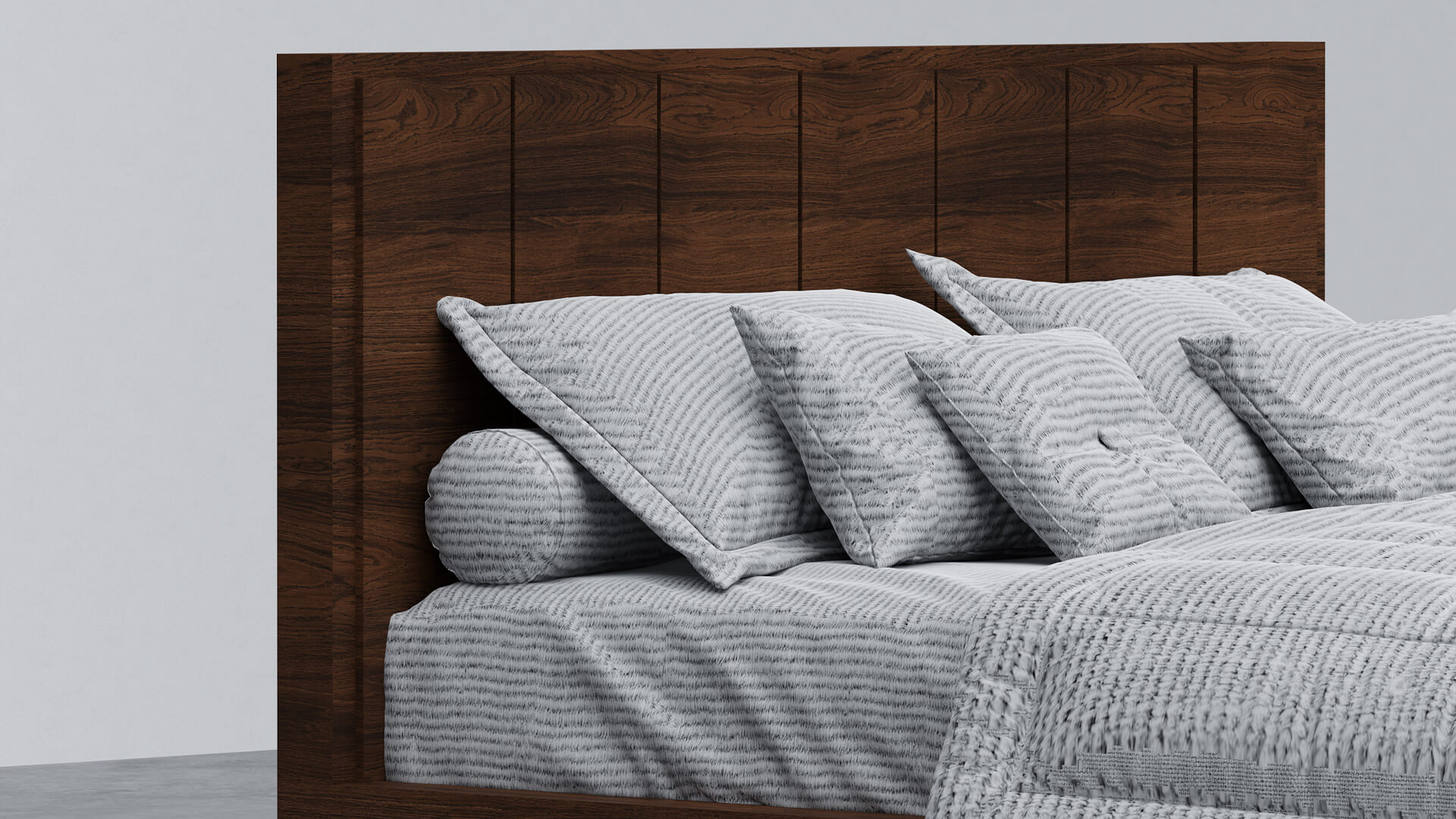 Strong texture and high quality headboard
In order to bring you the feeling of nature straight into your bedroom our designers wanted to make sure quality meets amazing aesthetics. Dark brown brings the texture of the walnut to the surface while the strong headboard gloriously represents the quality of this amazing piece.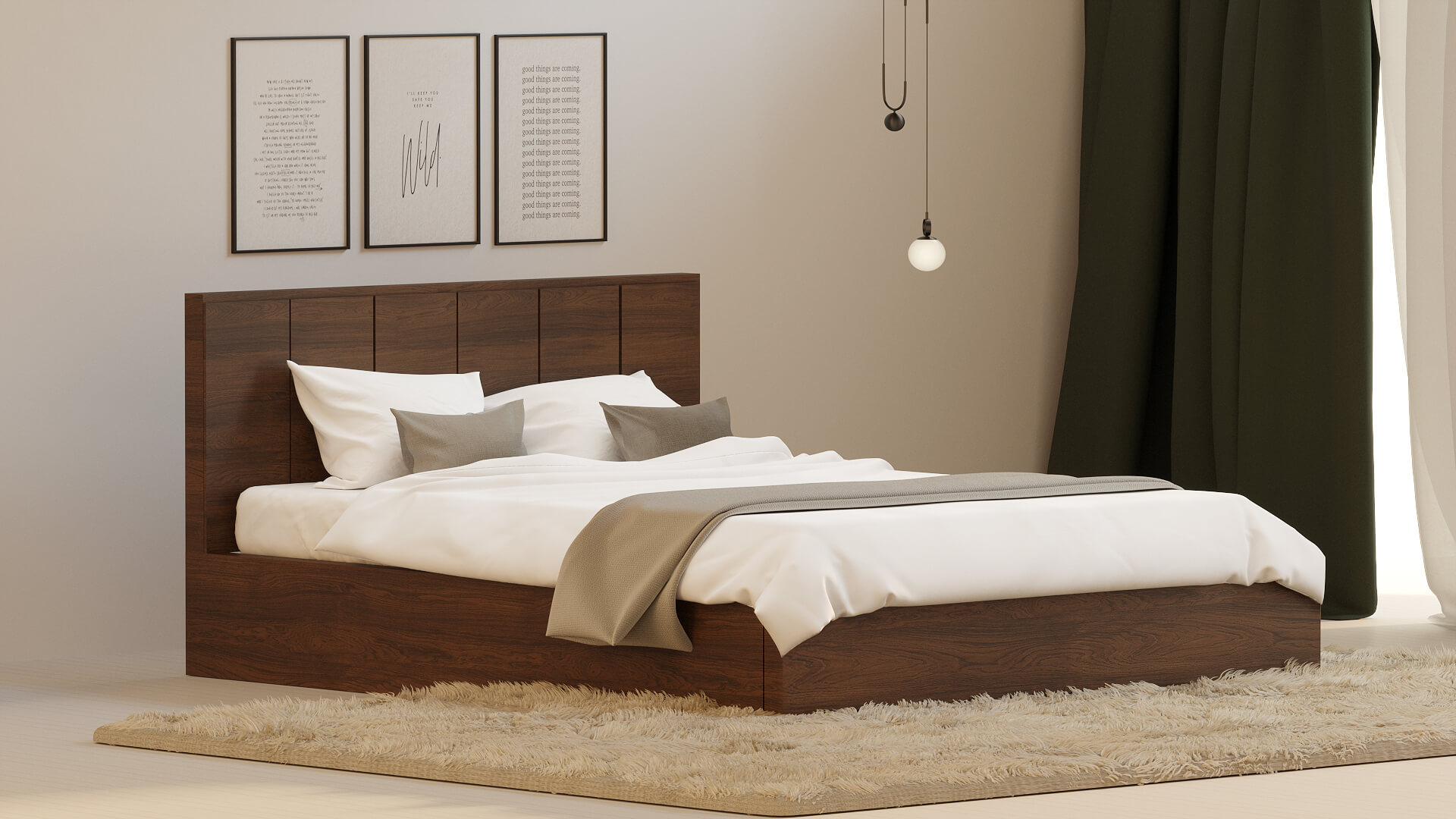 Smart and Beautiful
With a smart storage that you can use to leave your clothes, shoes or basically anything else that can fit this amazing bed gives you more than just a sleeping option. While combining amazing beauty with undeniable quality this bed manages to exceed all the expectations of modern sleeping options.
FAQs
Which materials are used to make this bed?
There are so many reasons why medium density fibreboard is so popular when it comes to modern sleeping solutions. Water absorption, thickness, elasticity, and Internal bond strength all contribute to the quality of this amazing material. The manufacturing process of MDF has changed a lot over time. Now advanced technology has changed the quality and saved time and cost of production. So nowadays it is a profitable business as much as it is a quality solution for any type of modern furniture design. Walnut veneer is special in its own way as walnut wood is so unique in its structure. When using veneer there are so many opportunities when it comes to giving your furniture that exclusive look that lasts. In comparison to laminates, natural veneers can be customized with polish or varnish to change its shade from light to dark more easily. It helps to achieve edge and surface finishes with uniformity and gives a timeless look to space.
What was the designer's inspiration?
Inspired by the Nordic style of design which is above all else simplicity and striving to achieve perfection Inga wanted to incorporate all the key elements of her long experience in order to create an art piece that lasts. It is often hard to follow a rigid structure that made all the Scandinavian furniture reach the top of the industry while at the same time having that free artistic spirit embedded in the soul of the material. Due to her passion and dedication, Inga managed to create a sleeping option that will bring joy, love, and long-lasting quality to any bedroom while keeping the family together and the body well-rested.
Do the dimensions of the bed fit my body well?
No matter which kind of mattress you decide to choose for your bed, it will perfectly coexist with the structure of the material. The dimensions are adjusted to all the body shapes ensuring safety and durability. We wanted to make sure that all of our customers have the most amazing experience whether it is physical or visual. An abundance of space and comfort make this bed a true stunner when it comes to your modern resting solution.
Where are the products made?
The beds are made in our overseas factory near the Yellow mountains in Eastern Asia. Also, they are handmade by our craftsmen which means that they are crafted with special care and exceptional attention to detail.
Does the bed come with the mattress?
All of our beds come without the mattresses or pillows as a simple construction. We always want to let our customers make a choice when it comes to the design and decoration of their own bed and we are completely sure that you will make the best possible choice.
What is the difference between a double and king-sized bed?
The main difference between these two categories is always more related to the dimensions than the actual shape. Double-sized beds usually are 4′6″ x 6′3″ in imperial and 135 x 190 cm in metric size while the king-sized beds have slightly bigger dimensions which are 5′ x 6′6″ in imperial and 150 x 200 cm in Metric size. In the end, it all comes down to your personal choice and we are sure you will make the best one!
Is your furniture suitable for business purposes?
We are very fortunate to have many small businesses put their trust in us by ordering our furniture for their commercial space. To make sure your employees have a pleasant, comfortable, and productive week, comfort plays a major role.The infrastructure of our logistics team will always make sure that your furniture arrives on time whether you've ordered 1 for your home or 20 for your business. For more details, visit our B2B page.
Reviews
Based on 1000+ reviews
Read more reviews
Amazing quality
I decided to go for this bed because it looked different than most beds I saw online. This one really gave me that 1960s hotel vibe. It arrived a month ago and it goes perfectly with the rest of my Mid Century design furniture in my apartment. The soft gray color makes it easy to combine with different colorful beddings.
Addison
Easy assembly
I ordered this bed a couple of weeks ago and received it yesterday. Today we finished assembling it and I'm quite happy with how it looks and feels and how well it goes with the rest of my bedroom furniture. Big storage drawers are a huge help.
Bailey
Amazing wood texture
This bed creates that nice, rich, vibe in the bedroom. Really helps with the whole room setting since the wood is a really nice deep colored one and the details on it are amazing. It's also big enough for me and my hubby to be comfortable but not too big so it takes up the whole room. Recommend!
Kira